Notes on the song lyrics

George Orwell wrote "The insularity of the English to take foreigners seriously is a folly that has to be paid for very heavily from time to time". Despite the rich tapestry of cultures and backgrounds that exists in our country, there remains that Little England attitude which stains our collective character. From the hatred of Europe driven by the tabloids ("Express from The Mail") to the mistrust of anything or anyone foreign, this yearning of an Empire (that for most of us is not memory, but history) continues to fester.

At best, the Little England attitude is an unrealistic belief that the English are better than anyone else, at worst it evolves into violent racism. The lyrics aim at the latter, with a warning for anyone who is not pure white to 'Not go out there tonight' because of the threat from the Little Englanders.

When I wrote this song, I believed that the Little Englanders were in the minority, but the recent "Brexit" vote for the UK to leave the European Union and the sad death of the UK Member of Parliament, Jo Cox, suggests the "Little England" mentality is spreading. Unfortunately, the lyrics have become far more poignant than I ever feared when I wrote the song. Nothing wrong with being patriotic, but as Samuel Johnson said - "A patriot is a man who loves his country, whereas a nationalist is a man who hates everybody else's country".

You may download the song here.



Lyrics

The manifesto is Express from The Mail,
Ranting of Europe and of loss and betrayal,
The foreigners and all their benefit frauds,
A 'send them back' cry wins a round of applause.

Chorus:
Little England,
Little Englanders,
Don't go out there tonight,
Little England,
Little Englanders,
Are spoiling for a fight.

I hear the cries, but don't believe what they're saying,
There's discontent out in the suburbs tonight,
Hide your flag because the England are playing,
Gonna catch a boat, a plane,
I'm not coming back again.

Chorus:
Little England,
Little Englanders,
Don't go out there tonight,
Little England,
Little Englanders,
Unless you pass as white.

God bless the land where the sun never sets,
The fading red map is still tinged with regrets,
Tired Empire tears drop soft on old school tie,
The crest has now fallen 'neath solid slate sky,
Look away.

"Let's hear your accent and we can tell where you're from,
It's not where you were born, but where you belong",
The immigrant wave is two fingers to you,
"The jobs here are ours and the women are ours too".

Chorus



Reviews

The artist and legend Billy Bragg called the track "Spot on" and a "powerful response to the 'Is Protest Music Dead?' question". He tweeted his support and a link to the track and placed details up on his website.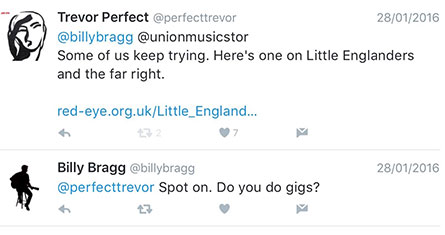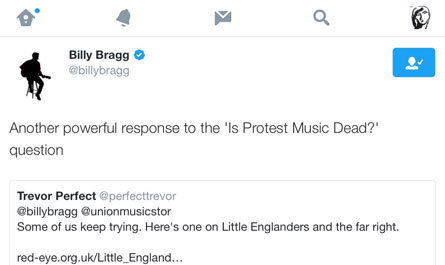 "Interesting and Unique. Great concept and job ... (the) production is awesome ... keep up the great work."
Livio Harris, Notting Hill Music Group