Notes on the song lyrics

I have always loved the film "Eternal Sunshine of the Spotless Mind". I particularly like the idea that even if we are brain washed of the memory of a lover where the relationship has failed, there is a likelihood that we fall in love with them again. I expanded this to how we can brainwash ourselves of the misery of past relationships over time and blot out the bad times, much like vehicles can look closer in rear view mirrors, so can relationships and past lovers. No doubt this is why so many couples who have failed try again and again to make things work out.

I had a vivid image of love having to be sucked out of the memory to purify the mind again, hence the reference to leeches placed on a forehead. I also had the concept of reversing the time of a failed relationship so that all the good times appear at the end and the bad at the beginning. Consequently, your final memory of your partner is the first time you met - 'Our final memory is love at first sight, our final moment that sweet first kiss'.

Join the Red Eye mailing list and you'll be able to download a free mp3 version of every song, as well as receiving occasional Red Eye email updates.



Lyrics

Out in the half light,
Under yellow hue,
Nothing now seems as before,
For the same reason, a battered wife returns,
I convince myself,
That things have changed.

My mind plays tricks on me,
Shuffles memory cards,
Deletes the pain and
Goes into spin.
Rose tinted glasses,
Shield my mind's eye,
My memories fade from black to gray.

Relationships look closer in rear view mirrors.

Chorus:
Bleed out of me,
Leave and set me free,
Place the leeches on my forehead,
Bleed out of me.

Let me cherry pick
In the warm sun,
And touch the ripe fruit,
Of the past,
Bring me a sip of,
Those claret lips again,
Smell your bouquet,
Drink you in.

From semi precious,
To cutting diamond,
From false pearl,
To this fool's gold.
I throw myself in,
Deep seas of memories,
But crystal blue sheen,
Distorts my eyes.

Relationships look closer in rear view mirrors.

Chorus

Let me reverse time,
Start with this misery,
Now dark and distant,
These final days,
Our final memory,
Is love at first sight,
Our final moment,
That sweet first kiss.

Relationships look closer in rear view mirrors.

Chorus:
Bleed out of me,
Let the blood run free,
Place the leeches on my black heart,
Bleed out of me.



Reviews

"Very well sung and the instrumentation is superb. There is so much emotion on this song which you don't hear nowadays. Really enjoyed the song."
EDA Music Radio

"This was one of the better tracks I received here at MusicXRay. The lyrics were exceptionally good, Heidi is phenomenal and the melody was sincere and heartbreaking. Really loved it."
Starsuncharted

Stars Uncharted also posted this review on their website: "Sometimes you encounter a song that blows your mind away. Relationships Look Closer In Rear View Mirrors (inspired by the epic movie Eternal Sunshine Of The Spotless Mind) is such a song. The guy who wrote it, Trevor Perfect, has a project called Red Eye that showcases his songwriting and this song is without a doubt the crown jewel. RLCIRVM has some production and arrangement issues, but the lyrics are top notch, the melody is genius in its simplicity and the featured singer (Heidi Vogel) is absolutely phenomenal. Check it out."

The song was picked for the excellent NBTMusicradio compilation Comets, Karma, And Radicals.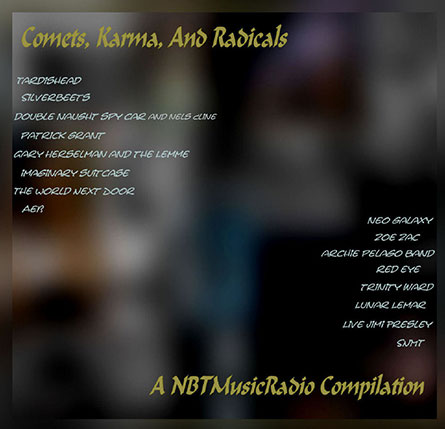 The liner notes of Comets, Karma, And Radicals states: "It is really all too easy to compare this to Nina Simone's more introspective creations, or a particularly beautiful early Massive Attack entry, but this is a sensitive sensual beast that could ONLY be a Red Eye track".

Modern Visionaries also placed the song on their website, and the review says: "Red Eye has a distinctly jazz-infused vibe that picks up where Cassandra Wilson's New Moon Daughter left off. Unlike the majority of today's popular music, Red Eye tackles extremely difficult subject matter. Relationships Look Closer in the Rear View Mirror is a harrowing look at domestic abuse whose melody and arrangement are both haunting and enchanting."

New World global radio 'Emerging Artists' commented: "A unique and talented artist".