Notes on the song

For hundreds of years, London's Soho has been a safe haven for individuals, eccentrics and refugees from the mainstream. It has attracted and welcomed freaks, weirdos, gays... anyone who is different. "It was a place where people dared to be different. Indeed, were encouraged to be so."

Even just saying Soho seems exotic. A word that should be whispered and never said out loud. Someone once asked me, "If it was possible, what would you like to take with you when you go travelling. I replied "Soho". Unfeasible I know, but how wonderful to experience all the wonders of the world and know you could slide into Soho at 1am!

But now Soho's vibe and character is slowly being destroyed by gentrification and property developers. As the late, great actor, John Hurt, warned, Soho loses its artistic bent as the corporations and developers move in.

Together with some of the damaging social consequences of gentrification to residential areas, there are also potentially irreversible consequences to vibrant inner city areas. As rents go up, music, noise and dance restrictions increase, and rich new residents put pressure on bars and nightclubs to close. As such there is a real danger that many lively, exciting areas which have existed for years are cleansed and gentrified forever.

This track tackles the situation that is facing and has already affected the Soho district of London; but it could equally apply to many areas in cities around the world where "good time cleansing" threatens to destroy the vibe and character of an area. It is depicted through the eyes and memories of an ex night worker, wanting to visit Soho one more time before it changes and "dies" forever.

I mention one recent and iconic casualty of Soho in the lyrics. "Madam JoJo's" was a famous, decades old nightclub, which was recently closed down. "Lola's in hell" is a reference to The Kinks' epic track 'Lola', telling the story of a night out in Soho. "Jeffrey's unwell", is the famous Soho character Jeffery Bernard, who was a British journalist "notorious for a feckless and chaotic career and life of alcohol abuse". He became associated with the louche and bohemian atmosphere that existed in London's Soho district and was later immortalised in the comedy play 'Jeffrey Bernard is Unwell' by Keith Waterhouse.

As Marcus Harris, a promoter at Madame JoJo's said, "... it seems that the council ... clearly don't want a late-night drinking presence anywhere in Soho any more. They want to make Soho about families - shopping, going out to eat, going to the theatre. The bars shut at 11 and you're home by midnight." Soho, for better or worse, has never been about getting home before midnight.

But hopefully, all is not lost. The new mayor of London recognises the importance of nightlife to a city and has established a "night guru" to help protect and enhance London nightlife. There is also the Save Soho pressure group. The slow creep of gentrification, sterilisation, the dullards and the rich newcomers are hard to counter, but "Bar Italia is not yet a Starbucks!"


Join the Red Eye mailing list and you'll be able to download a free mp3 version of every song, as well as receiving occasional Red Eye email updates.



Lyrics

I'm going to Soho,
A last goodbye,
To see that old friend,
Before she dies,
I'm going to Soho,
Before it's sanitised.

Cash for pleasure,
I'd ply my trade,
I'd turn tricks in Soho's brilliant parade.

I'm going to Soho,
Lola's in hell,
They killed Madame JoJo,
Jeffrey's unwell,
I'm going to Soho
Before they gentrify it all.

I'd walk these streets and,
In killer heels I'd flirt,
I'd raise an eyebrow,
Maybe sometimes raise my skirt.

Gonna take a neon shower,
Do some shots and shoot the breeze,
Don't let them turn that final light out,
Gotta stop this good time cleansing ... please.

I'm going to Soho,
To run amok,
Where once I blowed,
Now it sucks,
I'm going to Soho,
Before Bar Italia becomes Starbucks,

Gonna try my luck.



Reviews

The song Soho was featured on Soho Radio and Trevor was also interviewed on 'The Soho Society Hour' on Soho Radio, which was awarded the best online independent radio station in the world in 2016.

Here is a link to the show on Mixcloud.

There is a mention at the introduction of the show at the beginning. Soho starts about 16 minutes in, and the interview starts at about 20 minutes in and ends about 34 minutes in. There is a final discussion at about 48 minutes in, until about 50 minutes in.


Soho was also voted 14th out of all the best songs of 2017 by NBT Music Radio.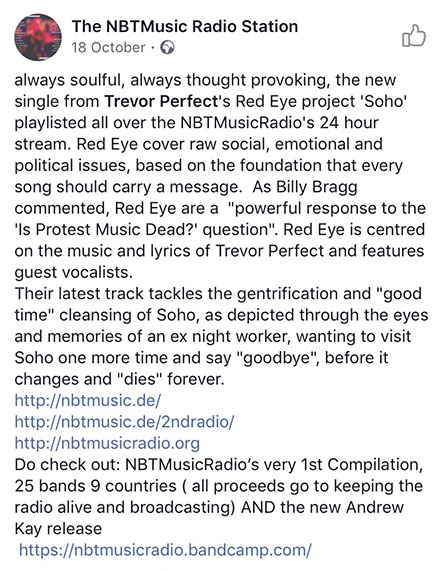 "Sport killed Soho really, that and rich fast car drivers wanting to put their money in a different country. London might sink soon, so don't worry Soho, you aren't alone. Trevor Perfect enlisted Jenny G to sing the vocals of a lost prostitute - eloquently delivered."
All About Jazz